By: AJ McClellan
A great night of drinking vino with the members. After a few ice days everyone was ready to get back to it and pop some great bottle.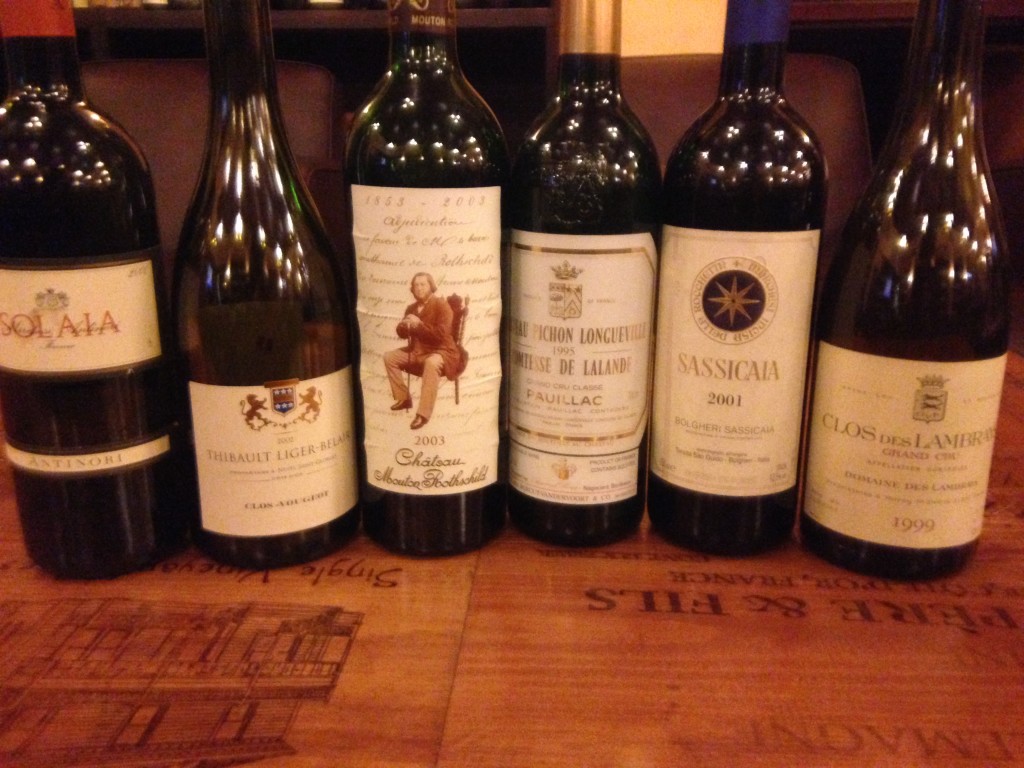 The night started with a 2000 Solaia, the wine was showing beautiful Italian earthy aromas with dusty red cherry coursing through the middle giving it a sweet backbone supported by strong tannins on the very end. Not to be outdone in Italy, Simon popped a stunning bottle of 2001 Sassicaia that stood toe to toe with the Soalia duking it out with great minerality, dry foliage, and ripe red fruits.
Next came the finesseful bunch; matching 2002 Thibault Liger Clos Vougeot up against the 1999 Domaine Des Lambrays Clos de Lambrays. The Liger was tight out of the gate and never really turned the corner keeping an austere edge that never fully relaxed into the soft tannins and plush fruit. The Clos de Lambrays on the other hand, after a decant, was very pretty with a black cherry and wild black raspberry fruit note that melded perfectly with the wet earth and rocky minerality.
To finish the night a few big guns come onto the table. The first bottle to be poured was a 1995 Pichon Lalande. I am such a fan of the Lalande wines and this 95 was just another stunning example of why I enjoy this producer so much. The tannins were perfect for drinking with a soft touch around the edge but still firm enough to allow another decade or two of aging. The fruit sang of wild currants and ripe cherries. After some time in the glass notes of coffee and tobacco started to mingle with the fresh compost and beautiful minerality to make a complex meritage on the palate. Just when I thought things couldn't get much better the 2003 Mouton landed on the table. While the wine is still very tight I can easily see how much potential this bottle is packing. Tight tannins that need another 10 years to unwind but the fruit is POWERFUL and will hang on for as long as you care to let the bottle lay down.
All in all, a great wine night and one that will be hard to top. Until the next time!