By: Ryan Tedder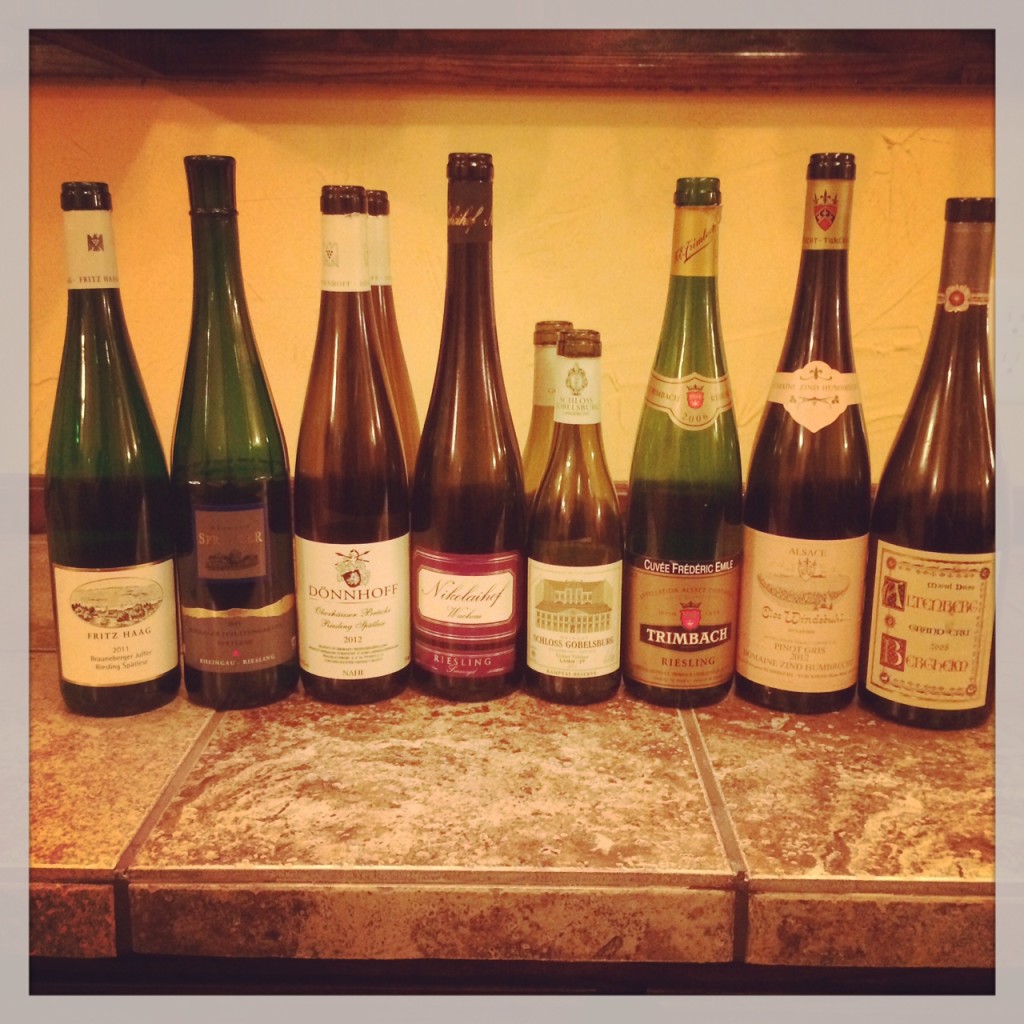 With the blazing summer heat of Texas in full effect last week we did our first "Skinny Bottle" Tasting of German, Alsatian and Austrian wines at Graileys. This was a personal affair as well because I love Riesling of all styles and I used to live in the middle of the German wine country in a town called Worms in the Rheinhessen for 2 years. The wines proved difficult to find as only a handful of cases are ever brought of these timeless small production wines. A small group of acid heads come together in the back for an educational and thirst quenching exploration into the slender wonders of this part of the wine world.
We broke the regions into small flights and flashed maps and shots of the vineyards and bottles. It was a grand time. We broke the Riesling of Germany into 3 different Spatlese from 3 distinctly different regions: the Mosel, the Rheingau and the Nahe. The wine we drank started with the 2011 Fritz Haag Brauneberger Juffer Spatlese from Mosel. Mr. Haag is an iconic producer of the region and his vineyards wines were written about Thomas Jefferson among others. The 2011 vintage is a classic year and the wines have air airy, weightless feel to them. This wine clocked in at 7.5% abv and there was a good amount of RS balanced with nervy acidity and a fruit cocktail nose of peaches, white cherries, lush tropical fruit and light citronella. There was also wax, honeycomb, exotic flowers, jasmine and starfruit. This was really exotic juice with a precise, long finish. This will age for 20 years easily. Next we went to the Rheingau and the 2011 Spreitzer Winkeler Jesuitengarten Spatlese. Another delicious wine with more mineral, green apple, green plum, melon, pineapple, pencil eraser, white flowers and chalkiness. The wine was a touch weightier but still light on its feet at 8% abv. Probably my #3 in the subgroup but a great wine nonetheless. Lastly we drank the legendary 2012 Donnhoff Oberhauser Brucke Spatlese from the Nahe. This was my top here and this producer is certainly one of the finest in all of Germany and the world. The wine was only 8.5% abv but the intensity, density, range of flavors and electricity on the palate was breathtaking. 2012 was another cool here in the small region tucked Southeast of the Mosel and Southwest of the Rheingau. The wine literally reminded me of Pop Rocks on my palate. There were notes of white and yellow peaches, cantaloupe, candied pear, white cherry, subtle cinnamon and lemon oil notes with tart tropical notes as well. The wine was subtly creamy with charming sweet berry fruit flavors. The precision and minerality were top notch and the finish was intoxicating. Bravo!
Next up we traveled to Austria and tried two superlative examples of the more serious wines that are made there. One was a single vineyard Grand Cru Gruner Veltliner from the Kamptal and a Smaragd Riesling from the oldest producer in the country in the Wachau. The 2011 Schloss Gobelsburg Lamm Vineyard Gruner Veltliner from Kamptal was poured from half bottle with the hopes this young wine would show more quickly. This is a personal favorite bottling for me. It needs another 2-3 years in bottle to be truly open knit and it should drink well for another 10 years after that. This Gruner receives some new French oak treatment and the wine has impressive dry extract, glycerin and power. The fruit were in the lemon oil, yellow grapefruit, tart tropical and sweet citrus camps. There were loads of floral aromas with a faint hint of white pepper on the finish. Although the wine needed a bit more time to be ready to drink, this wine still held its own at the tasting. Another smoking wine was the 2008 Nikolaihof, Von Stein Riesling Smaragd from Wachau. This vineyard literally looks like the terraced vineyards of Hermitage formed by the Romans. Smaragd Riesling is the highest ripeness level of Riesling in the Wachau and it equivalent to Auslese Riesling in Germany. This was far drier and weightier than any German Riesling. There was distinct bottle variation on this wine and the second bottle showed more opulently. That is always one of the worries with extremely old school, dirty cellar wineries. The nose was full of musky floral and elder flower notes; a juicy, buoyant, polished palate generously gave us white peach and grapefruit, suffused with floral and sweet herbal essences while the mid-palate showed a shimmering array of mineral nuances and a dynamic, uplifting, and refreshing finish. Quite the ethereal wine to say the least.
Last we finished in Alsace with three of the best producers and three completely different, although completely enjoyable wines that where , as a group, the best wines of the night in my opinion. I hypothesized that the additional bottle aging on two of thee wines probably helped and the 2012 Pinot Gris was amazingly forward and rich. The first wine was the 2006 Trimbach Riesling Frederic Emile. This is a wine I have enjoyed every year that I have ever tried. This particular year had a waxy, chamomile tea and honeyed nose with loads of peach, apricot, nectarine and yellow apple, with hints of guava and dried papaya. Refreshing acid and a medium bodied dry, minerally mid palate with wet stones, smoke and spice notes with a lingering finish. Next up was the 2012 Zind Humbrecht Pinot Gris Clos Windsbuhl and it was my #3 for the night. The opulence of generous yellow peaches, nectarines, bananas, and even pineapple. There was a buttercream, jasmine, exotic spice nose that just got better as it stayed open and the richness and almost sappy weight of the wine was impressive. Definitely a wine that would age for a while too as there was nice acidity and a slight crushed rock minerality. The last wine of the flight and the night was my favorite of the night without a doubt! The 2008 Marcel Deiss Altenberg de Bergheim Grand Cru was head-spinning good and certainly a wonderful introduction to this biodynamic proprietary field blend style of wine production. This blend of Grand Cru varietals from one of the benchmark Grand Crus of Alsace. This was layered, dense and exotically perfumed and the palate had a density and a mouthcoating texture that few wines have matched. The wine was lively and layered on the palate as well with everything from Citrus to Tropical fruit, a myriad of flowers, wonderful spices, chalky mineral and crushed rock notes with mushrooms and hay. Certainly a Tour de Force of flavor that made me an instant believer in this rock star of Alsace. A producer to seek out for sure!
As often happens at Graileys a wild night of great wine drinking followed: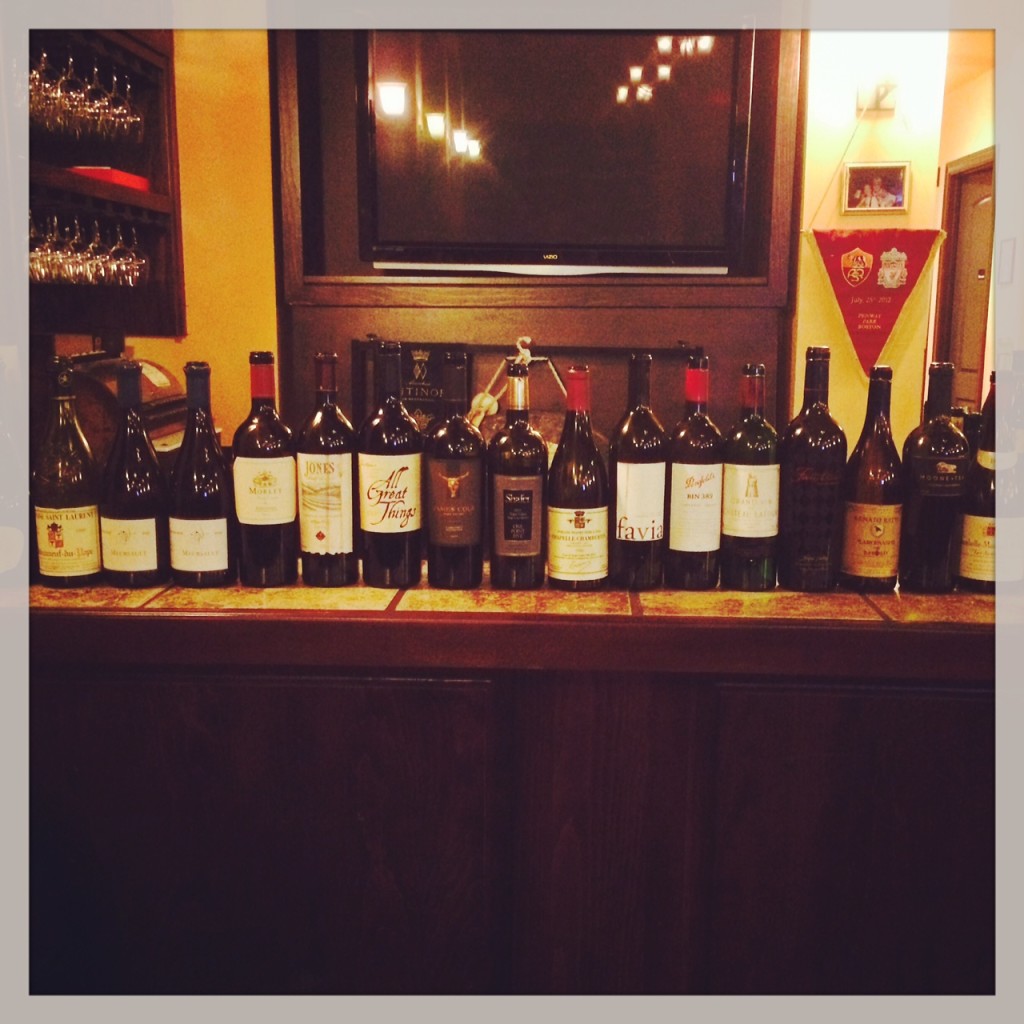 Wines from the session:
2009 Arnaud Ente Meursault village
1999 Groffier Chambolle Musigny les Sentiers 1er Cru
2001 Domaine Saint Laurent Chateauneuf-du-pape
2011 Morlet Les Passionment Red
2010 Jones Family Cab
2010 All Great Things Cab
2010 Shafer One Point Five Cab
1998 Trapet Chapelle Chambertin GC
2009 Favia Cerro Sur 
1995 Chateau Latour
2009 Moone Tsai Cab
2008 Fantesca Cab
2009 Renato Ratti Marcarasco Barolo
Great times had by all!